How to Port or Retain an I-140 Priority Date?
Perhaps the single most important "date" within the employment-based immigration life cycle is the priority date. As we must recognize, employment-based immigration visas are subject to annual quotas or numerical limitations, which means there are a limited number of visas available in each preference category. These preference categories are divided into several classes, with higher-priority categories generally receiving a larger number of available visas. Often times, these categories become backlogged meaning that an individual must establish their place in the green card queue before the government can actually issue the Green Card approval.
The priority date determines an applicant's place in line for visa the entitlement to file the Green Card application as well as the government's ability to approve these Green Card applications. Typically, those with dates farther in the past are considered to be "toward the front of the line" while those with recent dates are at the end of the line and have to wait.
Typically, an individual obtains their priority date on the day their employer files the ETA 9089 PERM Labor Certification. For instance, all the necessary recruitment has been finalized and now my employer is in a position to finally file the PERM. On the date they file that PERM to the Department of Labor, that date is and will forever be considered the priority date of that case.
Once the PERM is approved, the company then typically has six months (180 days) to file an I-140 before the PERM expires. Once USCIS approves the I-140, the priority date "sticks" and then becomes the Alien's priority date indefinitely, or at least until the Alien's priority date becomes current and they can then file the I-485 Green Card Application.
Let's say Abhishek is employed by Company A and they are the very first company to carry Abhishek through the Labor Certification and/or I-140 process. Company A will file their Labor Certification and for the sake of example let's say they file this Labor Certification on October 29, 2020. Here, we should recognize Abhishek's tentative priority date is October 29, 2020. Once the Labor Certification is approved, Company A will then file the I-140. Once the I-140 is approved, October 29,2020 is no longer the tentative priority date. Instead, Abhishek will be vested with this priority date indefinitely. So, when Abhishek looks to the monthly visa bulletin, he will look to his preference category (EB-2, EB-3, etc.) to recognize how long he may need to wait until he can file his I-485 Green Card application.
It is the opinion of our office that the moment the I-140 is approved, that priority date sticks with the Alien forever. Under 8 CFR 204.5(e), the first I-140 approved on behalf of an alien under Eb-1, EB-2, or EB-3 accords the alien the priority date of the approved petition for any subsequently filed I-140 petition for any classification under EB-1, EB-2, or EB-3. In the event that the alien is the beneficiary of multiple approved I-140 petitions, the alien shall be entitled to the earliest priority date.
Now let's assume after Abhishek's I-140 with Company A is approved, he decides to move employers to Company B. We must recognize that to sponsor the Green Card, Abhishek's current employer may need
their own I-140 approval. Thus, Company B sets out to file their own Labor Certification and obtain their own I-140 approval.
Now Company B goes out and files their own Labor Certification. Let's say they file it on January 15, 2022. Therefore the priority date of Company B's case is January 15, 2022, not October 29, 2022 (per Company A. This is an important distinction and there are reasons why Company B is pegged to January 2022, but for purposes of this article it is not important to discuss.
Now, Company B is going to set out and file their own I-140 with the Labor Certification they've obtained. To avoid losing Abhishek's place in the Green Card queue, when filing Company B's I1-40 they will want to port or "recapture" the earliest available priority date to Abhishek (October 2020) from Company A.
How do you port or recapture a priority date? Simple!
When Company B sets out to file their I-140–assuming of course Company B's Labor Certification is approved and has not expired—Company B needs to do two things:
1) In their I-140 filing, Company B should provide a copy or proof of Abhishek's earliest available priority date. This will almost always be in the form of a copy of Company A's I-140 approval. This document will clearly show the priority date entitled. If Company A refuses to provide this document or if perhaps Abhishek doesn't have this document in hand, there are a number of ways to obtain proof of the I-140 approval. Generally speaking, a Freedom of Information Act (FOIA) request will result in all the documentation necessary to prove the earliest available priority date.
2) On the current I-140 form (edition date 5/31/2022), Company B should select "Yes" to Part 4, Item 8 "Has any immigrant visa petition ever been filed by or on behalf of this person?". As a matter of best practice, Company B might want to add a short paragraph to a cover letter notifying USCIS of their priority date portability request.
For more information, or for a detailed conversation regarding your specific I-140 issues, Freedom of Information Act (FOIA) filings, or other potential issues arising during your Permanent Residency Process, please schedule a time to speak here.
By Ryan A. Wilck, Partner and Attorney at Law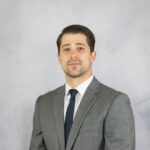 Ryan Wilck is a Managing Partner and attorney at Reddy & Neumann, P.C. with over a decade of US immigration law experience, enthusiastic and proactive in his approach assisting clients and their employees through the various phases of the permanent residency a/k/a Green Card process. "Concilio et labore" is not only the motto of Ryan's favorite sports club but is also his life's motto; all things come through wisdom and effort. Ryan is passionate about gaining the trust of his clients by utilizing a relentless and detail-oriented approach to understand their specific goals and concerns, hoping to instill a sense of confidence and stability. Whatever your immigration problem or interest, he and his team will find a solution, through wisdom and effort. Reddy & Neumann, P.C. has been serving the business community for over 20 years and is Houston's largest immigration law firm focused solely on employment-based business immigration. We work with employers and their employees, helping navigate the complex immigration process efficiently and cost-effective.
We are committed to assisting our clients with navigating the complex PERM Labor Certification (ETA 9089 and other challenging immigration matters as an accomplished immigration law firm in Houston, Texas. Our team is here to offer the direction and support you require, whether you're a company trying to hire top talent or a foreign worker seeking to develop a career in the United States. To find out more about how we can help you with your immigration issues, get in touch with us right away.