Safeguarding the H-1B Visa Program: Stand Against Fraud & Report Fraud
As Rahul Reddy, attorney at Reddy & Neumann PC, I feel a deep concern over the escalating instances of fraud in the H-1B visa registration process. The United States Citizenship and Immigration Services (USCIS) has witnessed a remarkable surge in H-1B cap registrations in recent years, raising questions about the integrity of the process. In fiscal year 2024 alone, there were a staggering 780,884 eligible registrations.
Alarmingly, we've seen an uptick in the same beneficiaries appearing in multiple eligible registrations. This manipulation suggests that certain entities may be gaming the system to gain an unfair advantage. Such underhanded tactics can undermine the H-1B visa program's integrity and unfairly limit opportunities for genuine applicants.
At Reddy & Neumann PC, we have always stood firmly against such deceptive practices. We believe in the H-1B program's value as a driver of innovation, economic growth, and competitiveness in our country. To see it exploited in this way is deeply troubling.
The USCIS is vigilant about these fraudulent activities and has implemented stringent measures to ensure the integrity of the H-1B program. Petitioners must attest, under penalty of perjury, that their registration is accurate, complete, and reflects a legitimate job offer. Violations of these requirements can lead to severe consequences, such as denial or revocation of the petition, and even referral to federal law enforcement agencies.
However, the responsibility to combat fraud is not solely that of the USCIS. We, as members of the legal profession, prospective beneficiaries, employers, and the wider public, must play an active role in this effort. If you encounter a company offering to file an H-1B visa application without a genuine job offer or detect any form of system manipulation, we strongly advise you to report this to the USCIS.
Reporting suspected fraudulent activities not only protects you but also contributes to preserving the H-1B program's integrity for future applicants. Every report aids the USCIS in identifying fraud patterns, locating the entities involved, and taking necessary actions to maintain the immigration process's integrity.
You can report these instances through the USCIS online tip form, a tool specifically designed to handle immigration benefit fraud and abuse complaints. This user-friendly form allows you to provide as much detail as possible about the suspected fraudulent activity. Even if you choose to remain anonymous, your information can significantly aid in initiating investigations and preventing others from falling victim to similar scams.
With the increasing sophistication of fraudulent schemes, USCIS is striving to further modernize the H-1B registration process to curb misuse and fraud. But until that happens, the vigilance of prospective beneficiaries, employers, and the public, coupled with the assistance of legal professionals like us at Reddy & Neumann PC, remains a vital line of defense.
We reiterate that the H-1B program is an essential part of our immigration system and economy. Its integrity is a shared responsibility. By standing together, we can foster a more transparent and fair process, safeguarding opportunities for those genuinely seeking to contribute to our nation's prosperity.
So, if you see something, say something. Your actions can make a world of difference. And remember, at Reddy & Neumann PC, we are always here to provide guidance and support, reinforcing our ongoing commitment to discourage fraudulent practices and uphold the H-1B visa program's integrity.
We have included a sample content for the compliant:
https://www.uscis.gov/report-fraud/uscis-tip-form
Prior Submissions
Have you previously submitted this information to USCIS? No  (If you have submitted before you can answer yes) 
Are you providing additional information? No
Your Information (Optional) (Fill this out if you're comfortable providing your personal information)
First Name: [Your First Name]
Last Name: [Your Last Name]
Email: [Your Email Address]
Phone Number: [Your Phone Number]
Where are you reporting from? [Select "Inside the United States" or "Outside of the United States" based on your location]
Suspected Fraud or Abuse: Employment Fraud – H-1B
Suspected Violator Information: (if you know the individual – select both – if not select Business/Company
Business/Company
Individual
Both
The report involves a: Business/Company
Business Name: [Enter the name of the company that contacted you]
Address (optional): [If known, provide the company's address]
City: [If known, provide the city where the company is located]
State: [If known, provide the state where the company is located]
ZIP or Postal Code (optional): [If known, provide the ZIP or postal code]
Country (optional): [If known, provide the country where the company is located]
Summary of Suspected Fraud or Abuse
Summary Details: "I was approached by the aforementioned company via________ with a purported job offer. The company proposed to file an H-1B visa application on my behalf as part of this job offer. However, it has since come to my attention that there was no actual job offer, and the company's sole intent appears to have been to file for the H-1B lottery without a genuine job.  I believe now this to be fraudulent activity that undermines the integrity of the H-1B visa program and is potentially detrimental to genuine applicants. I wish to report this activity to prevent others from falling prey to such misleading practices. I would like to request that you investigate this matter to ensure that others do not fall victim to such deceitful practices. "
After filling out the form, you should complete the CAPTCHA challenge and submit the form according to the instructions on the USCIS website.
By: Rahul Reddy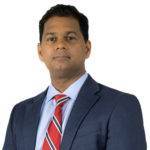 Rahul Reddy is the founding partner of Reddy & Neumann PC. He founded our firm in 1997 and has over 28 years of experience practicing employment-based immigration. Rahul's vast knowledge of the complex immigration system makes him an invaluable resource and an expert in the field. His personal experience with the immigration system has made him empathetic to each of his clients' cases and empowered him to help others achieve the American Dream.
Rahul's dedication to serving the immigrant community is evident, from his daily free conference calls to his weekly immigration Q&As on Facebook and YouTube Live. He is an active member of the immigrant community and one of the founders of ITServe Alliance. He has been a member of American Immigration Lawyers Association since 1995.