Temporary Protected Status for Ukrainian Nationals
On April 18th, 2022 USCIS published a notice in the Federal Register formally recognizing and establishing processes for Ukrainian nationals to obtain Temporary Protected Status (TPS) for at least 18 months due to the ongoing armed conflict and extraordinary conditions seen in Ukraine.
For those already in the United States TPS creates a temporary shelter for individuals of foreign nations who are unable to return to their home country safely for reasons such as ongoing armed conflicts, environmental disasters, and other extraordinary and temporary conditions. When provided TPS, an individual can stay in the United States legally and cannot be detained or removed from the country on the basis of their immigration status (or lack thereof). This individual is able to obtain work authorization and in certain circumstances may be granted international travel authorizations. TPS is a temporary benefit, does not create any legal status at the expiration of that TPS designation, nor does it lead directly to any sort of lawful permanent residence (Green Card).
However, while maintaining TPS, an individual is not prevented from applying for a Green Card, applying for a temporary nonimmigrant visa (such as F-1, H-1B, etc.), not prevent the individual from applying for any other immigration benefits or protections to which they are eligible.
Additionally, applying for and/or being granted TPS will in no way impact any visas which you might presently hold. For instance, if you hold an F-1 student visa and apply for TPS, nothing to do with your visa would be impacted.
As a Ukrainian, you are eligible to apply for TPS if you can demonstrate 1) you initially and lawfully entered the United States on or before April 11, 2022 and 2) you have not departed the United States since April 19, 2022.
To apply for TPS, an individual can apply online here or via mail by filing an I-821, Application for Temporary Protected Status to the proper USCIS office. USCIS charges a filing fee of $135 (or $50 for those younger than 14). The deadline to file TPS is October 19, 2023.
When filing TPS, an individual is also entitled to file for work authorization (known as Employment Authorization Document or EAD). To apply for an EAD concurrent with or subsequent to your TPS filing, you may do so here or via mail by filing an I-765 Application for Employment Authorization to the proper USCIS office. For those aged 14-65, USCIS charges an EAD filing fee of $410 (those <14 years or >65 years pay no fee).
When applying for TPS, whether online or by mail, be sure to provide 1) evidence of your identity and nationality (such as passport), 2) evidence of your legal entry into the United States (such as I-94), 3) evidence of your residence in the United States (such as where you are currently living), and 4) court records if you have ever been arrested, charged with, or convicted of a criminal offense.
If you are a Ukrainian in the United States, applying for TPS will provide you an avenue to remain in the United States for at least 18 months. While we pay the conflict ends immediately with Ukrainian territorial sovereignty fully restored, so long as the conflict exists it is likely TPS will continue to be granted/extended for those applying in the current registration period. To give an example, TPS for Nepal has existed since 2016. If you do not have a current visa or are looking for an additional safeguard beyond your current visa, there is nothing lost and much to gain by applying for grant of TPS.
By Ryan A. Wilck, Partner and Attorney at Law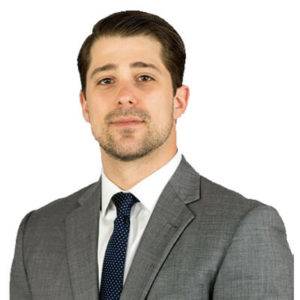 Ryan Wilck is an attorney at Reddy & Neumann P.C. assisting helping clients and their employees through the phases of the Green Card process. "Concilio et labore" is not only the motto of Ryan's favorite sports club but is also his life's motto; all things come through wisdom and effort. Ryan is passionate about gaining the trust of his clients utilizing a relentless and detail-oriented work ethic to understand their specific goals and concerns, hoping to instill a sense of confidence and stability. Whatever your immigration problem, he and his team will find a solution, through wisdom and effort.