Tips on Completing Form I-9: New 48 Month Green Card Extension for Certain Conditional Permanent Residents
In January 2023, USCIS announced that it was extending the validity of Permanent Resident Cards (Green Cards) for 48 months beyond the card's expiration date for petitioners who properly file Form I-751, Petition to Remove Conditions on Residence, or Form I-829, Petition by Investor to Remove Conditions on Permanent Resident Status. 
This change took effect on January 11, 2023 for Form I-829 and on January 25, 2023 for Form I-751. The USCIS explained that the change was being made to accommodate long processing times for these applications. As a result, USCIS has updated the language on the receipt notices to extend the validity of the Green Card for 48 months for those with a newly filed I-751 and I-829.
The receipt notices can be presented with an expired Green Card as evidence of continued status while the case is pending with USCIS. Also, by presenting an updated receipt notice with an expired Green Card, an individual will remain authorized to work and travel for 48 months from the expiration date of their expired Green Card.
How to Complete Form I-9
An employee can present their expired Permanent Resident Card with a Form I-797, Notice of Action that indicates USCIS has extended the card's validity. This will count as a List C#7 document, which must be presented in combination with an acceptable List B document.
Employees: Employees who previously provided their employer with a receipt notice for their Form I-751 or I-829 application and have now received a new Form I-797 Notice of Action receipt notice indicating a new extension date, should present this document along with the expired Permanent Resident Card to the employer.  The employer will use both of these documents to update the employee's Form I-9.
Employers: If an employee previously provided this document for Form I-9, they may now provide an updated Form I-797 Notice of Action receipt notice indicating a new extension date.  If your employee provides this updated documentation, you must update Form I-9 as follows:
In Section 2, update the 'List C, Expiration Date' by:
Drawing a line through the expiration date;
Entering the updated date; and
Initialing and dating the update.
Attach a short explanation for the change to the Form I-9.
Also, employers must reverify the employee's employment authorization before their extension ends.
Reddy & Neumann, P.C. has been serving the business community for over 20 years and is one of Houston's largest immigration law firm focused solely on U.S. employment-based immigration. We work with both employers and their employees, helping them navigate the immigration process quickly and cost-effectively.
 By: Krystal Alanis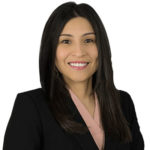 Krystal Alanis is a Partner at Reddy & Neumann, P.C. with over 10 years of experience practicing U.S. business immigration law. Krystal manages the firm's PERM Labor Certification Department, where she oversees all EB-2 and EB-3 employment-based green card matters. Krystal guides clients from a variety of industries through the maze of the PERM Labor certification process and has handled thousands of PERM applications throughout her career. Krystal guides employers through the I-140 and Adjustment of Status process, and assists clients with temporary work visas. Further, she oversees the firm's I-9 compliance team where she advises employers regarding Form I-9 Employment Eligibility Verification requirements and conducts internal audits of a company's I-9 records, processes, and procedures. Additionally, Krystal represents clients in Form I-9 U.S. Immigration and Customs Enforcement (ICE) inspections (Notice of Inspection). Krystal successfully settled a claim with ICE over Form I-9 substantive paperwork violations that led to an 88% reduction in civil fines for her client.