USCIS Announces Key Dates for FY 2024 H-1B Lottery
The H-1B visa is a popular visa in the United States for foreign workers in specialty occupations. The demand for H-1B visas frequently exceeds the government's annual numerical limit of 65,000 visas for general applicants and an additional 20,000 visas for those with a U.S. master's degree or higher. Since the demand exceeds the statutorily defined cap for new H-1Bs, USCIS holds a randomized lottery to select H-1Bs. The lottery takes place in the spring of each year for a start date no earlier than October 1 of each year.
For the last 3 years, the H-1B lottery (or cap, quota, or any variation of the same) has been a simplified process from prior years. Starting in 2020, USCIS instituted an H-1B registration process. As a business immigration firm, Reddy & Neumann, P.C. has seen the old process and the new process, and our corporate immigration clients tend to believe that the new process is much more efficient.
The current H-1B lottery process allows companies to create a profile on https://my.uscis.gov/ as an H-1B specifically for H-1B registration, and from there the company, or their attorney, can register their prospective H-1B employees (called registrants). This registration process requires basic information about the company, such as company name, address, contact information, and FEIN. Companies, or their attorney, can then enter the data for each registrant. The information required is limited and only requires companies to enter the name, date of birth, country of birth, country of nationality, passport number, and whether the individual is eligible for the Master's Cap. Once finalized, a company pays $10 for each registrant filed in the H-1B system. No formal documentation has to be submitted to USCIS during the registration process.
USCIS has recently announced the key dates for this year's H-1B lottery as follows:
February 21, 2023 at noon EST: Companies can create a MyUSCIS online account specifically for H-1B registration. Companies that have previously had a MyUSCIS account for H-1B registration should log in at this time to remember their credentials.
March 1, 2023 at noon EST: the registration window will open and companies or their attorneys can begin filing their registrations
March 17, 2023 at noon EST: the registration window will be closed. All registrations and payment must be submitted before March 17 at noon EST and there are no exceptions.
March 31, 2023: USCIS intends to notify account holders of selections by this date.
April 1, 2023 – June 30, 2023: expected filing window for selected H-1Bs
Generally speaking, USCIS will receive enough registrations to run the lottery after March 17, 2023. After March 17, USCIS will do a "quality control" check of the registrations and reject any registrations that are duplicate filings. There is no avenue to appeal rejections for duplicate filings.
In 2022, USCIS added an attestation that companies must sign under penalty of perjury attesting to the truthfulness of the information in the registration as well as certifying that the registrations reflect a legitimate job offer that the organization is submitting. Further, the company will have to attest that they have not worked with or agreed to work with another registrant, petitioner, agent, or other individuals to unfairly increase the chances of selection for beneficiaries. USCIS has been cracking down on the multiple registration issue as well as cracking down on companies that are colluding to improperly increase the changes of selection for prospective employees.  We anticipate that a similar attestation will be required this year.
Once USCIS runs the lottery it will begin to issue selection notices to companies for specific individuals that have been selected. Please note, these tend to come in batches so if you see some on one day, just wait and there might be more coming!
Each selection notice is unique to a specific individual and that company and cannot be transferred to another prospective employee nor can an employee take their selection notice to another employer. Employers should pay special attention to each selection notice as each notice provides the filing window for that selection as well as the service center that H-1B must be filed at. Note, that it is common that a company will file H-1Bs at multiple USCIS service centers for the H-1B cap, so be sure to pay special attention. USCIS has not been lenient in the past for missing the filing windows, and employers should ensure that they file with plenty of time to spare.
The H-1B lottery registration window and subsequent filing period can be a hectic time for a company, and it is critical that this process is handled efficiently and effectively. If you are using a business immigration attorney, it is important to choose one that has experience in the process that can help guide your company and your prospective employees so that the H-1B registration process and filing process is as smooth as possible. If you are interested in talking to any of our attorneys about your company's needs for the H-1B registration process, do not hesitate to reach out to any of our firm's attorneys here: https://www.rnlawgroup.com/about-us/our-attorneys/
Reddy & Neumann, P.C. has been serving the business community for over 25 years and is Houston's largest immigration law firm focused solely on US. employment-based immigration. We work with both employers and their employees, helping them navigate the immigration process quickly and cost-effectively.
By: Steven Brown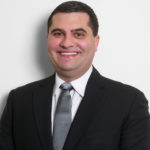 Steven Brown is a Partner at Reddy & Neumann, P.C. where he works in the Non-immigrant visa department and leads the Litigation Team. His practice covers all phases of the non-immigration visa process including filing H-1B, L-1, E-3, H-4, and H-4 EAD petitions. In the last two years, Steven has successfully handled over 1,000 non-immigrant visa petitions including filing petitions, responding to any necessary Requests for Evidence, and drafting motions and appeals. He has also become a key resource for F-1 students that seek guidance on properly complying with the F-1 visa regulations and any OPT or CPT issues they may have. Additionally, Steven holds a weekly conference call for companies that are part of one of the largest organizations for IT Services companies in America.