USCIS Provides Letter with Updates and Best Practices for FY 2023 AOS
In November 2022, the AULA USCIS Benefits Policy Committee Chair sent a letter to USCIS expressing some concerns and seeking clarification about USCIS's FY 2023 employment-based I-485 processing. As many may recall in FY 2021, USCIS ended up wasting 60,000 employment-based green cards. In FY 2022, USCIS did a much better job and used all allocated employment-based green cards, but there were some processing issues including allegations cases were not approved in a First-In First-Out Basis and instances where a spouse's application was not approved with the primary. In the November letter, AILA expressed these concerns and wanted to ensure USCIS was taking all steps necessary to utilize all employment-based green cards. On December 27, 2022, Ur Jaddou, Director, USCIS, responded to the letter and provided some guidance for FY 2023 that individuals might find helpful. This letter has been published on AILA as AILA Doc. No. 23010937, but important details can be found below.
Dependent Adjustment of Status Filings
Director Jaddou recognized that there are instances where a dependent spouse or child remains pending despite the primary applicant receiving an adjudication of their I-485. She noted that USCIS makes "every effort to adjudicate the principal and derivative applicants at the same time, but this is not always possible." While this is not ideal, the derivative applicants can still utilize and extend their employment authorization and advance parole authorization while their I-485s remain pending even if the primary spouse has been adjudicated. This is especially helpful in instances where the primary was approved, the derivatives remain pending, and retrogression occurred that would prevent the derivative applications from receiving an adjudication. Director Jaddou noted that the retrogression issue does not impact interim benefits or the derivative applicant being in a period of authorized stay.
From a practical standpoint, this adjudication paradigm has created a lot of questions for adjustment of status applicants, but it shouldn't cause significant stress. As noted, the derivative applicants will remain in a period of authorized stay and can continue to utilize their work and travel authorization associated with the I-485s. The big thing to keep in mind is that once the primary applicant is approved, they are no longer maintain their non-immigrant visa status. So, if the primary applicant is on H-1B and the derivative applicants were on H-4, the approval of the primary's I-485 removes the primary from H-1B, and this essentially puts the derivative applicants out of H-4 status by operation of law. They can still remain in the US and are lawfully present based on the I-485 pending, but they will need the (c)(9) EAD in order to continue to work, and cannot get further H-4 visa stamps or enter on H-4.
This also creates a need for additional considerations for those that are considering utilizing F2A family based green cards to get derivatives on a green card. Unlike employment-based which can utilized 245(k) to waive status issues of less than 180 days, 245(k) is not applicable in the employment-based context. So in the H-1B and H-4 family scenario above, once the H-1B primary gets their green card, the H-4 derivatives are immediately out of H-4 status, and thus cannot adjust status using F2A within the US. However, there are options that a family might consider, especially with the retrogression issue. If the derivatives are retrogressed, the green card spouse could petition for an F2A visa for their derivative family members for consular processing.
Ultimately, the separation of family green card applications is problematic, and it is hopeful that now that Director Jaddou is aware, we see less of it moving forward. However, should it happen, there are a number of factors a family would want to consider for their immigration planning.
Pending I-485, Supplement J Transfer of Underlying Basis Filing
Last year, USCIS announced a more "formal" procedure for individuals to file a transfer of underlying basis (TUB), whereas in the past many individuals would try to interfile and hope for the best. TUB is when an individual changes the "category" of the I-485 for another category they qualify for already. For example, an individual who filed their I-485 based on an EB-2 I-140 that is now retrogressed and wants to take advantage of their approved EB-3, can follow USCIS's procedure for transfer their underlying basis from EB-2 to EB-3 without having to file a new I-485. The constant change in the visa bulletin between EB-2 and EB-3 has led to an increase in TUB filings.
Director Jaddou addressed situations where an individual who have previously requested a transfer of underlying basis of their I-485 in FY 2022 and now wish to withdraw that request and transfer to another basis, including the basis originally designated on the Form I-485 filing. USCIS is going to require a new written transfer request, even to back to the originally filed basis for the I-485. This means USCIS will require that individuals file a new Supplement J in order to confirm the job offer and transfer their basis to a previously filed and approved I-140. Note, if the applicant is requesting to transfer the underlying basis to a Form I-140 that remains pending, this individual does not need to submit a new Supplement J.
While this does create unnecessary paperwork, it is the only way that USCIS has indicated one can transfer their underlying basis.  USCIS has provided detailed instructions on their transfer of underlying basis policy here: https://www.uscis.gov/green-card/green-card-processes-and-procedures/fiscal-year-2023-employment-based-adjustment-of-status-faqs. Further, our firm has previously done a video about TUB and the various things to consider: https://www.youtube.com/watch?v=LmTfev_Dzxk
Adjustment of Status Applications Transferred to a Local Field Office
 In her letter, Director Jaddou noted that USCIS has a process for cases at a field office that has now retrogressed and is no longer current. Generally, these applications are returned by the field office to the National Benefits Center (NBC) if it appears approvable, but is no longer current. NBC will then monitor the cases monthly to ensure adjudication is complete.
The key phrase in this section is "appears approvable." It is still possible that even if your case has retrogressed, the field office may retain your case for any visa interviews, RFEs, or any other actions necessary to get your case to "approvable" status before sending it to NBC. It is worth noting that in previous outreaches USCIS has confirmed they do not request a pre-allocation of a visa number prior to approval.
USCIS Processing Steps Once Priority Date Becomes Available
Director Jaddou quotes the EB FAQ for 2023 in which USCIS stated "When a visa becomes available to you in the future based on the Final Action Date for your country and category as compared to your priority date, USCIS will be able to approve your adjustment of status application if you are admissible, merit a favorable exercise of discretion, and are otherwise eligible."
Essentially, what this means is that if you are currently retrogressed and later become current, USCIS should review your file and complete adjudication. This may result in some RFEs for updated medicals or other documents. USCIS notes that individuals do not need to contact USCIS once they become current. However, Director Jaddou notes that if the underlying I-140 is approved and a visa eventually becomes available and an applicant is aware that they do not have a valid medical, they should consider submitting a valid medical. Our office generally recommends asking the doctor for two copies of the medicals in these situations, one to send to USCIS proactively and one to retain in case of the RFE.
Erroneous AOS Approvals
Director Jaddou notes, and our firm has seen, I-485s that appear to be approved in error. This has happened when a derivative was approved and the primary was still pending, when the I-485 is approved but the priority date is not current, when the I-485 is approved or a category that is not appropriate or applicable to the applicant, or any number of reasons. This creates a problem because if the I-485 was approved in error, the individual could later have the green card revoked or prevent issues at the citizenship stage. In these situations, USCIS notes that if you believe your application was approved in error, you should reach out to the USCIS contact center at 1-800-375-5283.
If your I-485 was approved in error, and USCIS reopens the case, you will be again eligible for interim benefits and remain in a period of authorized stay. However, it is unlikely that you automatically go back to your nonimmigrant visa classification unless specifically informed, in a formal notice from USCIS, that you do so.
Overall, it appears USCIS is attempting to not waste green cards again this Fiscal Year, but it does seem like there might be hurdles applicants may need to be aware of. In this crucial step in your immigration journey, one that many have waited many years to achieve, it is important to consult a qualified business immigration attorney to ensure your case is processed smoothly and effectively, especially in light of the ever changing USCIS guidance.
Reddy & Neumann has been serving the business community for over 20 years and is Houston's largest immigration law firm focused solely on US. Employment-based immigration. We work with both employers and their employees, helping them navigate the immigration process quickly and cost-effectively.
By: Steven Brown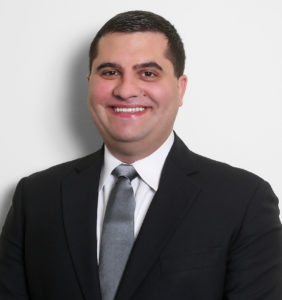 Steven Brown is a Partner at Reddy & Neumann, P.C. where he works in the Non-immigrant visa department and leads the Litigation Team. His practice covers all phases of the non-immigration visa process including filing H-1B, L-1, E-3, H-4, and H-4 EAD petitions. In the last two years, Steven has successfully handled over 1,000 non-immigrant visa petitions including filing petitions, responding to any necessary Requests for Evidence, and drafting motions and appeals. He has also become a key resource for F-1 students that seek guidance on properly complying with the F-1 visa regulations and any OPT or CPT issues they may have. Additionally, Steven holds a weekly conference call for companies that are part of one of the largest organizations for IT Services companies in America.